Muchachos Announces 2022 Scholarship Recipient
Corps member and 2022 Bedford High School graduate, Mari Abbot, is the recipient of the Gerry Dionne Memorial Scholarship. Mari joined the Muchachos at age 14 and has played baritone in the brass section for the past four years. Mari will be attending the University of New Hampshire in Durham this Fall.
At Bedford High School, Mari was a member of the concert band, varsity band, and jazz band. She started in band when she was in the 6th grade in Hudson, NH and continued in Bedford, NH in 7th grade at Lurgio Middle school.
She is the fourth child of six children with a musical paternal side. Her father is a graduate of Berklee College of Music, her grandmother, Kristin Abbott, is a retired flute teacher, and her grandfather, Dan Abbott, is a former music professor at Tufts University.
The Muchachos Scholarship Awards Program was created in 2018 to assist Corps members continuing their education beyond high school level. Up to two $500 scholarships can be awarded annually to eligible student members from the current year Corps: The Gerry Dionne Memorial Scholarship, named after the Corps' founder, and The Dick Jarvis Scholarship, named after the former Corps director and business manager.
Applicants must be accepted or enrolled in a two-year or four-year program and the funds must be used for school-related expenses, such as tuition, books, lab fees, housing, etc. For this scholarship program, first-time applicants must have the endorsement of their school's Guidance Counselor on their application, attesting that their grades are a minimum GPA of 3.0 on a 4.0 scale. Students may reapply for the scholarships in succeeding years if membership in the Muchachos Drum and Bugle Corps is maintained and a copy of the latest transcript is submitted.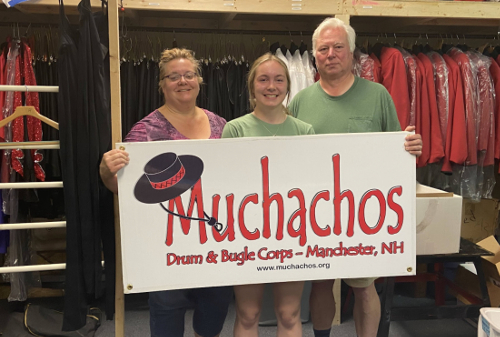 Mari Abbott with her parents Karen and Charlie Abbott.
Muchachos Drum and Bugle Corps
The Muchachos is a 501(c)(3) non-profit educational organization based in Manchester, New Hampshire. An all-age corps, membership consists of both youth and adults with a mixture of seasoned performers and individuals new to the activity. As a community-based organization, performers come from all over Southern New Hampshire including Manchester and the surrounding cities and towns as well as from locations in Massachusetts and Maine.
The organization's priority is to teach musical proficiency and marching arts to its members through an ongoing, in-group instructional program. Members are provided opportunities to demonstrate the learning experience through a number of parades and exhibition performances throughout the year.
Founded in 1960 as the Manchester Boys Club Drum and Bugle Corps, the Corps became the Muchachos Jr. Drum and Bugle Corps in 1963 and remained a respected competitive junior corps through the 1960s, '70s, and '80s until going inactive in 1986. Read more about the history of the Manchester Muchachos.